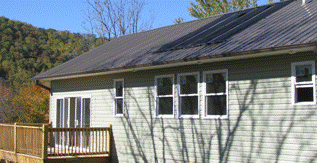 Advanced Green Building Technology
Solar Water Heaters increase energy efficiency, thereby decreasing electricity consumption and lowering power bills.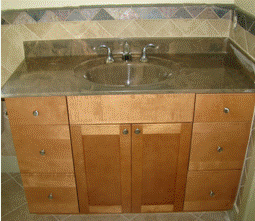 Healthy Built
Better Air to Breathe
Formaldehyde-free cabinetry and insulation improves indoor air quality. Interior finishes are non-toxic. Earthpaint is manufactured from local ingredients in Asheville, NC. Eco-friendly Cabinets are made with plywood and water-based finishes which don't emit hazardous chemicals.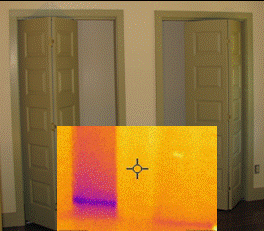 Affordable
Less wasted space means more livable area for less cost.
Innovative use of closet space as a thermal buffer maximizes efficiency. In the infrared picture, the closet door on the right is closed while the left is open. The color difference equates to energy savings.
The Bee Tree Residence is Franklin, North Carolina and Macon County's
FIRST certified green home
. It is featured in a short video on
YouTube
and on
www.wintersunllc.com
. The house is
Energy Star
Certified 5+ Stars and
Healthy Built Home
Gold, both highest possible honors. Compared to an average house, this residence will save 40% on power bills monthly
for life
. Green building began with
passive solar design
by placing the house on the site to take advantage of the sloping lot and to rely on the sun's position for heating and cooling. Super insulated panel walls and extensive air sealing produced a house that is sealed and performs like a refrigerator. Indoor air quality is improved with proper ventilation and non-toxic finishes and materials. A
solar hot water
heater further reduces energy consumption and contributes to the home's performance.
A Winter Sun green home reduces homeowner's energy bills and future costs, minimizes the building's environmental impact, and affects the family's health for the better.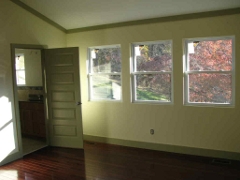 Passive Solar Design
Let in the warming winter sun while blocking the harsh summer sun. This photo, taken in November, shows sunlight warming the master bedroom. During the summer, the sun climbs higher in the sky and the overhangs shade these windows keeping the room cool.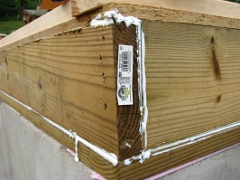 Air Sealing
The most effective way to increase a building's efficiency is with proper air sealing. This will keep conditioned air where you are paying for it: inside! Don't spend thousands on other "energy savers" while hundreds slip out through small cracks. A Winter Sun residence exhibits this high level of craftmanship.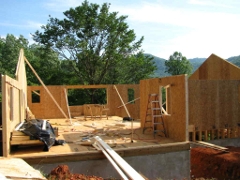 Super Insulated Structure
Structural Insulated Panels ensure an airtight and super insulated structure. These panels far outperform a traditional stud frame wall and eliminate other problems like thermal bridging in spray-foam construction. A SIP roof brings even greater levels of efficiency and air-tightness.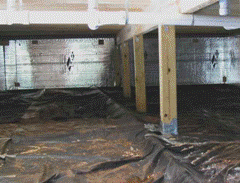 Closed Crawlspace
Conditioned crawlspaces are filled with conditioned air to maintain positive pressure and low humidity levels. This system is superior to a traditional vented crawlspace which allows moisture-laden air to enter and accumulate. All seams are sealed with glue and a radon mitigation system is installed.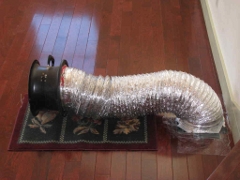 Adequate Ventilation
Ducts are tested for air tightness. An airtight house demands proper ventilation. Energy Recovery Ventilators bring in fresh, filtered air and blend it with heated and cooled air. This system also helps to manage humidity of the incoming air.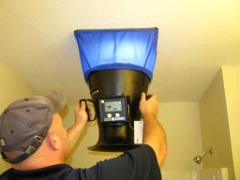 Third Party Testing
Independent verification of green claims is required for Energy Star and Healthy Built Certifications. Adequate ventilation is extremely important to ensure the health of occupants, maintain comfortable temperature and humidity and maximize energy savings. Tests are performed by Vandemusser Design.